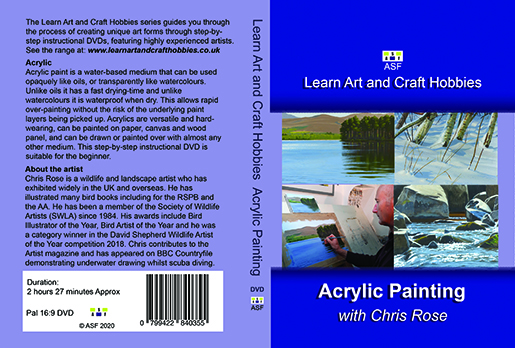 Using acrylic paint to create a picture on paper using a sketch as a reference.
Please scroll down the page to find out more about the Learn Art and Craft Hobbies Acrylic painting DVD with Chris Rose.
To purchase the Learn Art and Craft Hobbies – Acrylic painting DVD, click on the
Paypal link below.
Price: £27.00 plus £1.50 postage and packaging. Total payment required £28.50.
Acrylic DVD
An achievable hobby undertaken at home, with minimal tools and materials to start with.
Create your own original works of art.
A painting medium used to produce hard wearing waterproof paintings
A technique whereby other media can enhance the painting, eg pastel pencil.
Build up the painting in layers.
Artist Profile
Chris Rose is an award-winning artist who has appeared on Countryfile.
Chris Rose has been a member of SWLA since1984.
Chris is a bird and wildlife artist and illustrator
Chris exhibits in the UK and overseas,
DVD facts
Easy step-by-step tutorial with clear chapters.
A complete course for beginners
Actions clearly demonstrated which can be easily revisited.
No time pressure or pace restrictions
An insight in to the world of painting with Acrylics
Create original eye-catching works of art.
Reasons to buy this DVD
Find new ways to express your imagination.
Be versatile with your approach.
Have fun mixing the colours.
Build your painting in layers.
Draw or paint over your painting using other medium.
A focused distraction from everyday life.
Learn in the comfort of your own home
Learn at your own pace.
No exams or assignments.
Develop a new hobby.
Decorate bare walls with vibrant paintings.
Gain satisfaction from your creation.
 Review extract
"…..I'm prepared to say that this is one of the best introductions to acrylic painting you could wish for. At nearly two-and-a-half hours, it's longer than many films and, yes, it does go into a lot of detail. Do you need a full explanation and demonstration of stretching paper, for instance? Well, if you're a beginner and you've never done it before, yes you do, and this is one of the few films that will show you the whole process in real time. I stopped banging my head on the desk long enough to give this a big tick. One-nil to Chris.
After a fair quantity of patient introduction, it's time to get down to painting and the main body of the film is a single demonstration of a lakeside scene that includes a distant hillside, water and trees. The hillside allows Chris to show recession, the water brings in reflections and there are two lots of trees – middle and further distance, so detailed and not-detailed. It's a rather brilliant choice and means that the work can be demonstrated in almost real time rather than having different topics introduced in separate demonstrations that are necessarily curtailed. If you've ever sat in front of a film muttering "but that's the bit I wanted to see", well, you'll see it. Two-nil to Chris.
Oh, and finally, I like the man. He's a warm and generous demonstrator who gets under your skin. He's interesting even when he's reminding you to clean your brushes before the paint hardens and they become useless. Three-nil and a clean sweep.
Henry Malt
www.artbookreview.net