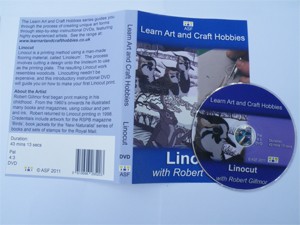 Linocut is a traditional print method using ink on a prepared template, with pressure applied to create the final print.
Please scroll down the page to find out more about the Learn Art and Craft Hobbies – Linocut DVD with Robert Gillmor.
To purchase the Learn Art and Craft Hobbies – Linocut DVD, click on the Paypal link below.
Price:  £27.00 plus £1.50 postage and packaging. Total payment required £28.50.
Linocut DVD
An achievable hobby undertaken at home,
with minimal tools and materials to start with.
Create your own unique designs.
A traditional printing technique used to make stunning prints with bold colours and defined lines.
Artist profile
Robert Gillmor is an internationally acclaimed artist, with credentials including RSPB, Royal Mail, and New Naturalist publications.
Robert Gillmor has been creating Linocut prints since his childhood in the late 1940′s.
DVD facts
Easy step-by-step tutorial with clear chapters.
Actions clearly demonstrated in a professional DVD.
Can revisit the chapters at your own convenience.
No time pressure or pace restrictions.
Intuitive and descriptive chapters.
Create personalised and unique gifts.
Reasons to buy this DVD
Develop a relaxing new hobby.
An engaging and captivating hobby.
Focus your creative mind.
Master a traditional print technique.
Learn in the comfort of your own home.
Learn at your own pace.
No exams or assignments.
"…… The viewer is taken through a step-by-step process with Robert Gillmor giving clear explanations of his tried and tested method to produce short runs of multicoloured prints.  This entails starting with a suitable drawing then cutting a block and finally printing in registration.
The registration method demonstrated is a particularly simple and suitable method for the beginner and although Robert used a press to print his blocks he also demonstrates a simple inexpensive printing method using a burin.
The video is nicely presented in short sequences that enable the viewer to digest the information and also refer back, if needed, to clarify any points.  The production of the video and the quality of the images are excellent and I would recommend it to anybody wishing to try their hand at printing multicoloured linocuts."
A review by Graham Smith on behalf of the Printmakers Council.
* * * * * * * *
Lino-cutting DVD review
"Anyone considering entering the world of lino printing should see this DVD. Robert Gillmor talks us through the art of multi-block, colour lino printing with a calm, reassuring style that makes the arcane processes involved seem easy and straightforward. His clear, concise and measured delivery is enlivened by his own, inimitable brand of quiet, dry humour.  The DVD is divided into manageably short chapters that talk us through the entire process of lino-cutting. It begins with a brief but interesting introduction to the history and development of lino-cutting. He then introduces us to the tools and equipment required to start lino-cutting, with advice on what marks each cutting tool makes and helpful tips on additional equipment that will make the process easier. There is also handy advice on how not to slice into your fingers while cutting!
This is followed by a useful chapter on how to transfer drawings or designs to the lino block before cutting begins. He introduces us to the concept of a 'key block' from which the design is transferred to the remaining colour blocks. There are also useful hints on how to rectify small mistakes in cutting.
We are shown how to mix inks and ink up the blocks and how to register each colour block on to the paper before sliding it under the press. There is also a small chapter on how to create a small, simple, two-colour print without the need for a press, and how to cover blemishes in the printing.
Finally we are talked through the process of elimination or reduction printing where a single block is used and cut away progressively for each new colour.  Robert Gillmor is a master of the art of lino-printing, and watching his calmly delivered instruction you believe you could just get out a few sheets of lino and produce wonderful images straight away. While in practice it may not be quite as straightforward, this instructive, well produced DVD is a wonderful introduction to lino-cutting and printing and is essential viewing for anyone wishing to learn this art."
A review by Chris Rose on behalf of the Federation of British Artists.
Price:  £27.00 plus £1.50 postage and packaging. Total payment required £28.50.
Customer review