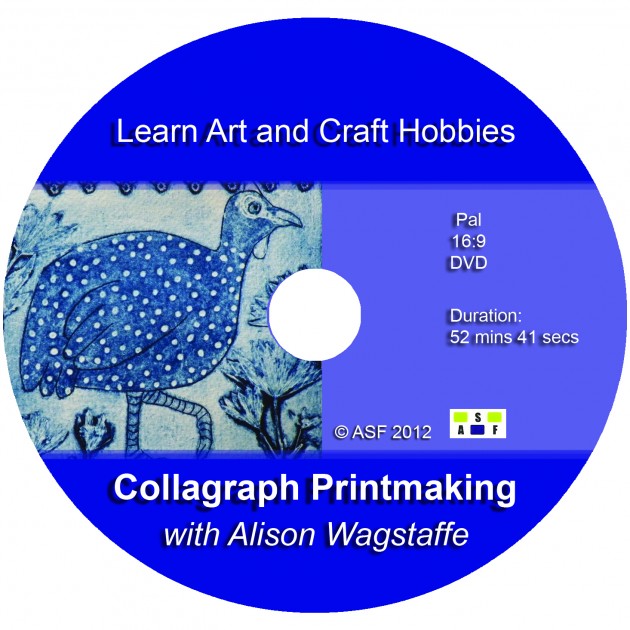 Collagraph is a form of printmaking using found materials that you glue to a plate. Create different surface blocks using materials with various textures, to form a collage like plate, and print from that.
Collagraph DVD
An achievable hobby which can be done at home with minimal tools and materials to start with.
Create your own unique designs.
A safe way of printmaking using found materials.
Artist profile
Well known established artist with commissions undertaken in the UK and overseas.
Has been printmaking since 1990.
Well known exponent of this technique.
DVD facts
Easy step-by-step tutorial with clear chapters.
Actions clearly demonstrated in a high quality DVD.
Able to revisit the DVD and chapters at your own convenience.
Intuitive and descriptive content.
Create personalised, unique gifts from your prints.
Reasons to buy this DVD
Affordable hobby for all levels.
Easily learnt versatile technique.
Relaxing hobby.
A distraction from every day life.
Focus your creative mind.
Master a new skill.
Learn in the comfort of your home, no need to attend courses.
Learn at your own pace, when you want to without time pressure.
No exams or assignments.
Price £27.00 plus £1.50 postage and packaging. Total payment required £28.50.
"This is a clear introduction to collagraph printmaking by an experienced intaglio printmaker.  The presentation is well organised, with the subject broken down in to easily watched chapters and these are helpfully followed by a list of the key learning outcomes.  Initially these are few but in later chapters they are more numerous reflecting the built-in progression of the programme.  Collagraph printmaking is presented in a simple but effective way, and one which allows the student to work at their own pace and to build on a few fundamental techniques.  Tools and materials are simple and easily obtained, and although the presenter uses a small etching press she also demonstrates how an ordinary kitchen pasta maker may be put to good use as a make-shift press.  The DVD is therefore highly suitable for adults who would like to explore printmaking as a hobby and who have restricted access to workshop facilities and only limited resources.  It may also have some limited use in the classroom at Key Stage 3 or 4 but teachers would need to be selective and use individual chapters as a part of their wider lesson planning.  On balance this is a useful introductory DVD for would-be collagraph printmakers.  Supplemented by one or two of the books that are available on the subject it can make a sound contribution to the development of a worthwhile and rewarding hobby.
Good clear introduction to the tools and materials required for collagraph printmaking.
Clear demonstration of the making and printing of collagraph blocks.
Helpful suggestions for printmakers working with limited equipment.
Easy to follow chapters and clear demonstrations throughout.
Suitable for use in a wide range of contexts but especially useful for adult beginners who cannot make use of open access print studios."
Michael Kennedy, Printmakers Council
This review while written by a member of Printmakers Council reflects the views of the writer and does not necessarily represent the views of the Printmakers Council.
Michael Kennedy is a painter and printmaker, and an experienced teacher of art and design. He worked for many years in Higher Education until his retirement in 2003, principally in teacher training.  Since retiring he has concentrated on painting and printmaking while continuing to teach from time to time, mainly through leading short courses and practical studio workshops.  He holds a Doctorate in Education and is a Fellow of the Higher Education Academy, and he is a committee member of the Printmakers Council.
Price £27.00 plus £1.50 postage and packaging. Total payment required £28.50.